What are Microsoft Partner Competencies?
With the influx of Microsoft products such as Microsoft Dynamics 365 Business Central over the past half-decade, the definition of a Microsoft partner and their competencies may have become construed. In this article, we'll define what a Microsoft partner is, we'll define what competencies are, show a few examples of these competencies, and what it takes to earn a competency to elevate your Microsoft partner status.
What is a Microsoft Partner?
A Microsoft partner is the bridge between Microsoft and their customers. Microsoft does not sell, implement and support all their products directly and must rely on Microsoft partners to provide these services.
For instance, to obtain Business Central on-premise software, Business Central cloud software subscriptions or Business Central user licenses you'll need the assistance of a Microsoft partner. You cannot buy these direct from Microsoft. Once purchased, you'll again need the assistance of a Microsoft partner as Microsoft will not implement the software for you.
Right about now you may be asking yourself, "What about Business Central support? Will Microsoft provide this for us?" The answer is maybe. Microsoft will provide basic Business Central support but due to the large amount of support inquiries turn around time might not be as fast as you'd like. On the other hand, Microsoft partners can provide basic and advanced support with a much quicker turn around time. Also, Microsoft partners have a "direct-line" to Microsoft just incase extra help is needed in resolving the support issue.
Now that we understand what a Microsoft partner is how do you find the best partner to help with your situation? We recommend looking at a Microsoft partner's competencies.
What are Microsoft Partner Competencies?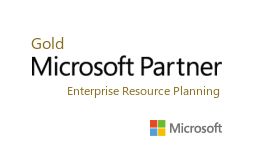 Microsoft partner competencies provide proof of expertise in certain solution fields. Partners who have obtained a competency, according to Microsoft, join the elite tier of Microsoft partners and stand out from their peers. Competencies can be obtained with either a silver or gold achievement status with gold being the highest achievable level. For example, Solution Systems has had the fortune of obtaining Gold certification in Enterprise Resource Planning, Cloud Platform, and Data Analytics. We've also obtained Silver certification in Small and Midmarket Cloud Solutions and application development partner. How did we achieve these certifications? By having organization-wide focus on what we do best and maintaining certain performance thresholds established by Microsoft.
What Performance Thresholds do Microsoft Partners need to meet to attain competencies?
Microsoft partners need to demonstrate a high proficiency in three major categories: performance, skills, and customer success. Partners who do not excel in all of these categories will not be able to obtain the Microsoft competency. Let's dive into this a little bit more.
Performance Qualification
Microsoft performance qualification is made up of two parts: new customer adds and support revenue. To demonstrate advanced abilities within these performance parts Microsoft partners need to outperform 90% of Microsoft partners.
Skills Qualification
Microsoft skills qualification requires partners to demonstrate advanced mastery of the products they are selling, implementing, and supporting. This is achieved through the taking and passing of Microsoft certification tests.
Customer Success Qualification
Microsoft customer success qualification is all about helping the customer grow their business. Partners have to display advanced abilities through successful deployments as well as advanced consulting abilities through customer usage growth.
We've come to the end of of the article and hopefully we've been able to help you understand a little bit more of what a Microsoft partner is and the value of choosing a Microsoft gold or silver partner. Next we recommend you read our article on the benefits of choosing to work with a Microsoft Direct Partner.
Would you like to know more about our competency qualifications or how we can help you with your Microsoft Software? Fill out the form below and one of our team members will be in touch shortly.